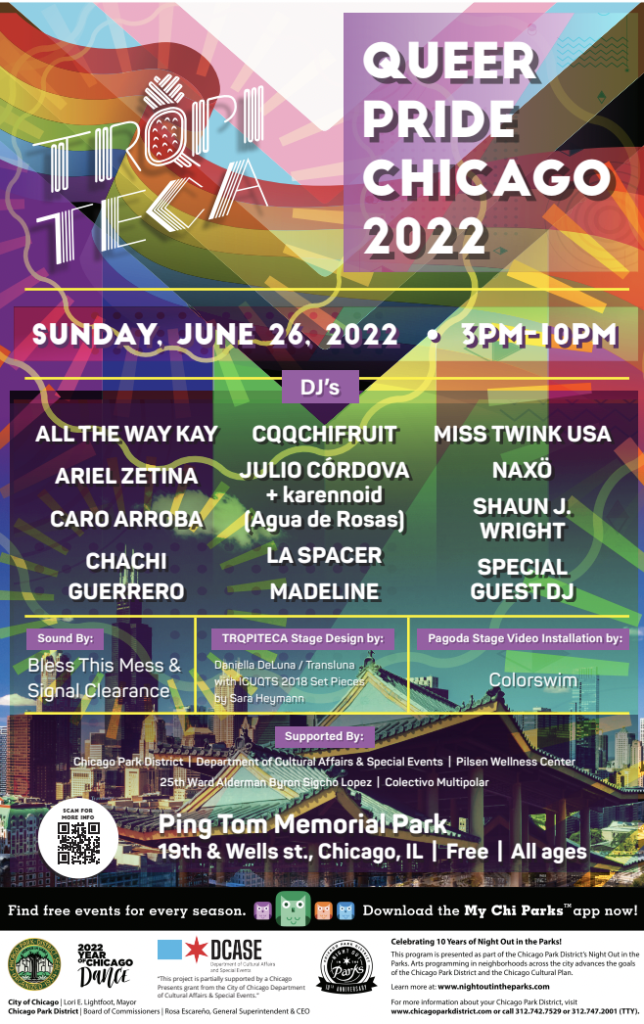 TRQPiTECA Queer Pride Chicago 2022
Sunday, June 26, 2022
Ping Tom Memorial Park
3pm – 10pm
FREE, ALL-AGES, Wheelchair accessible
TRQPITECA Queer Pride Chicago is a music, art, and community festival celebrating queer, transgender, nonbinary, lesbian, gay, bisexual, intersex, asexual, plus existence and resilience, presented as a part of the Chicago's Park District's Night Out in the Parks at the beautiful and iconic Ping Tom Memorial Park.
Open to the public, TRQPITECA Queer Pride aims to bring together people across ages and identities for an exploration of alternatives to mainstream notions of "Pride", via artists representing Chicago's queer undergrounds rooted in house and techno music. We also seek to bring Chicago's queer and ally communities access to health care and wellness resources and organizations servicing Chicago's South Side.
First presented in 2019, TRQPITECA Queer Pride was one of the first queer pride festivals sponsored by the Chicago Park District. TRQPiTECA is a production company and artist duo celebrating queer art and dance music culture in Chicago, co-founded in 2015, by DJs La Spacer and Cqqchifruit.
Programming:
3:00PM-10:00PM
DJs
Shaun J. Wright
La Spacer
CQQCHiFRUIT
Ariel Zetina
Miss Twink USA
Chachi Guerrero
All the Way Kay
Madeline
JULIO CÓRDOVA + KARENNOID (Agua de Rosas)
Caro Arroba
NAXÖ
(Secret Guest DJ)
TRQPITECA Stage
Sound by: Bless This Mess
Stage Design: Daniella DeLuna /Transluna
ICUQTS 2018 Set Pieces: Sara Heymann
Pagoda Stage
Sound by: Signal Clearance
Stage Design & Visuals: Colorswim
Location and Directions:
The event will be centered between the Pagoda, and directly under the 18th street bridge, and can be accessed by the park entrance at the intersection of W 19th St and S Wells.
Via Public transit:
Cermak-Chinatown Red Line Station (wheelchair accessible)
Cermak-McCormick Place Green Line Station (wheelchair accessible), transfer to #21 Cermak Bus
#3 King Drive – Michigan & 18th St
#21 Cermak bus – Cermak & Archer Ave, Red Line Station
#24 Wentworth bus – Clark & 18th St
#62 Archer bus – Archer & Red Line Station
Parking:
Street parking
Divvy Station:
Wells St & 19th St
COVID-19 Safety:
This is an outdoor, public event. Masks and social distancing are recommended, but not required. Free masks will be available at the entrance. Patrons who are exhibiting any symptoms of COVID-19 are asked to stay home and join us for an event when symptoms subside.
Food & Drinks:
Food & drinks will not be served at the festival, but there are drinking fountains. Festival-goers are encouraged to support Chinatown's local economy by purchasing food and drinks from the many excellent restaurants and cafes located just one block away.
We are currently seeking community organizations to table and engage with the public during our event, and volunteers who want to help us while connecting with community.
Community organization application:
https://docs.google.com/…/1FAIpQLSd302m7BPz3MH…/viewform
Volunteer application:
https://docs.google.com/…/1FAIpQLSeyOD…/viewform
We're proud to be one the 120+ arts partners selected to showcase their work as part of the 10th anniversary of @ChicagoParkDistrict's "Night Out in the Parks." Check out the full program at www.nightoutintheparks.com. #MyChiParks #InTheParks
This project is partially supported by a Chicago Presents grant from the City of Chicago Department of Cultural Affairs & Special Events.
If you would like to support, donations can be made via Venmo @trqpiteca Paypal at paypal.me/trqpiteca
For press inquiries and other needs, contact the organizers at trqpiteca@gmail.com.